Summer Overnight Camp
Aloha
girls' program for 7th-10th grade graduates
Camp Overview
Since 1905, Aloha has introduced campers to skills, programs, and opportunities they may never have encountered previously, creating a safe space for them to take risks and embrace new challenges. At Aloha, we celebrate campers' different strengths and interests, and support people in developing lifelong passions and confidence.
Mentored by well-trained staff from around the globe, Aloha campers learn both interpersonal and technical skills in a welcoming and rustic environment full of sunshine and clean air. Our campers build lasting friendships, stretch their skills, and develop a meaningful connection to the outdoors.
Aloha welcomes 7th-10th grade girls and gender nonbinary youth. 10th grade graduates are invited to apply to the full-session Club Program. Some 10th grade graduates who are unable to participate in the full session may choose to sign up for a half session as a camper instead. We invite families to learn more about us and discover if our camps are a good fit for you and your child.
*Registration opens on October 16!
2024 Dates
Monday, June 24 - Wednesday, August 14
Friday, June 28 - Wednesday, August 14
Friday, June 28 - Sunday, July 21
Tuesday, July 23 - Wednesday, August 14
Saturday, July 20 - Sunday, July 21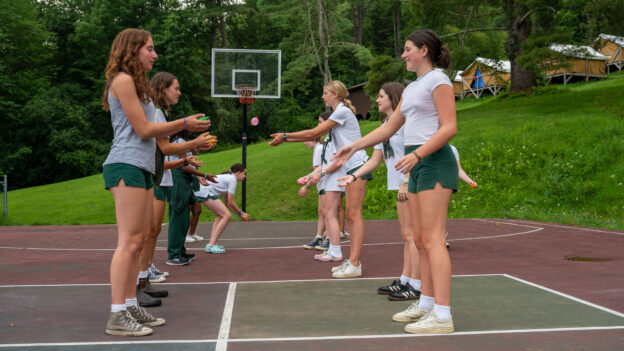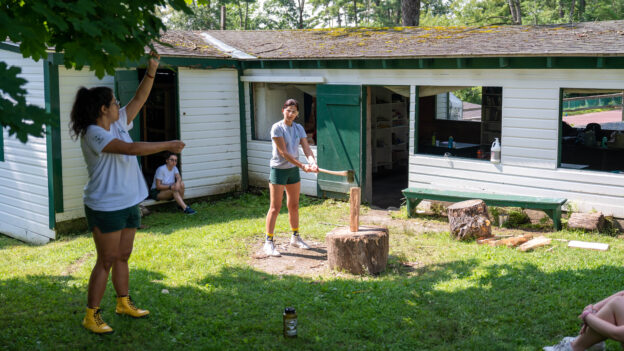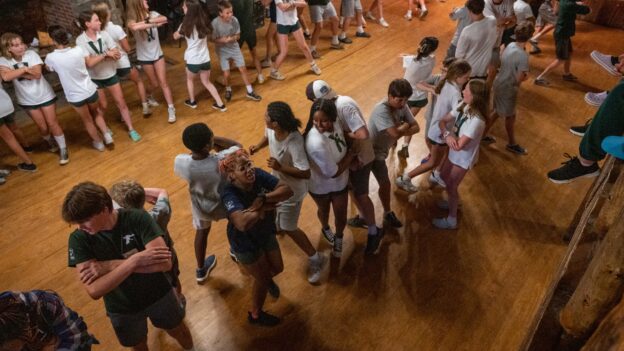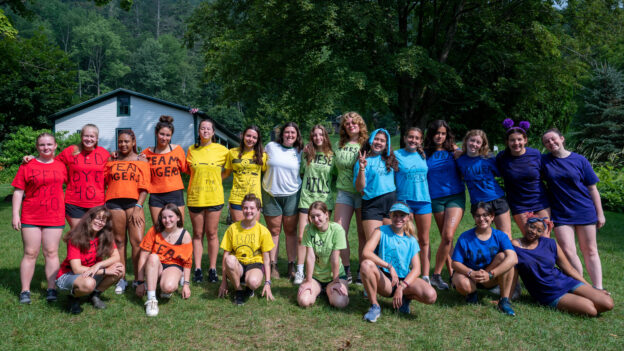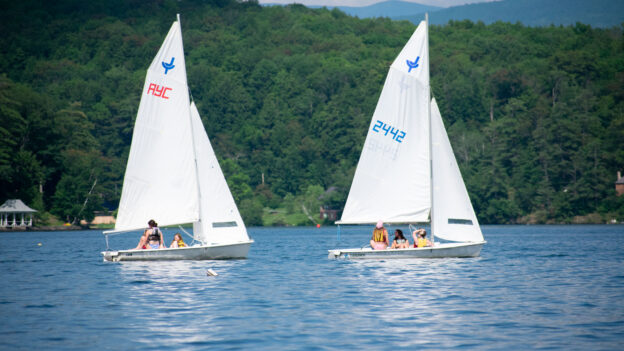 2024 Dates
Monday, June 24 - Wednesday, August 14
Friday, June 28 - Wednesday, August 14
Friday, June 28 - Sunday, July 21
Tuesday, July 23 - Wednesday, August 14
Saturday, July 20 - Sunday, July 21
Welcome to Aloha!
Discover and explore a summer with us! Aloha is more than activities, trips, singing, and campfires – more than skills, growth, and laughter. It is the sense of possibility and excitement that fills each day, and the lifelong friendships we build that invite us to imagine the best version of ourselves – not just while we are at camp, but all year long. I'd love to connect with you to tell you more about Aloha and answer any questions you may have!
-Charlotte Messervy, Aloha Director
"Aloha is an amazing place where kids can unplug (since there's no electronics) and live in nature. There's a broad swath of activities, and a caring and supportive atmosphere."
"I value the opportunity our daughter has at Aloha to learn new things and try new activities in a supportive environment. This is more and more rare in this day and age when 'stars' are determined at young ages, which can stop kids who are a little older from even trying new things. At camp, they can try tennis or sailing for the first time and know that it's okay and fun to be learning."
"The personal relationships she makes at Aloha are so important to her, and bring her happiness and confidence."
In Canoeing, Aloha campers have plied the waters of northern New England since 1905 – from Fairlee's shores, to Maine's Rangeley Lakes, and the glorious Adirondacks of New York State. Opportunities abound to hone and practice skills on both flat water and white water, and virtually every Aloha camper acquires paddling prowess that leads to a lifetime of enjoyment on the water. All waterfront counselors at Aloha are certified lifeguards.
With over twelve hundred acres on Aloha's property, it's no wonder our campers love to go out on trips. But we don't just stay on our campus. Campers plan wilderness adventures with counselors that last anywhere from one day to five, fanning out across the mountains, lakes and rivers of northern New England. Aloha introduces campers to an array of wilderness camping experiences in hiking, backpacking, canoeing, kayaking, and biking. Time spent on rivers, lakes, and trails provides opportunities for campers to practice both technical and interpersonal skills, from fire-building and map-reading to problem-solving, self-reliance, and resilience. And what more beautiful environment could there be in which learn and hone those skills than our natural corner of the world?
Aloha campers looking for a special kind of personal challenge have a variety of climbing options. In addition to Aloha's own climb tower, campers can head over to the high and low ropes courses at our nearby "brother" camp, Lanakila, where they take to the air high up in the pine trees, safely secured and belayed, and ride the "zip wire" 100 feet down from the treetops to the ground.
There's nothing quite like a summer breeze on Lake Morey, and catching the wind in one of our fleet of JYs is a favorite past-time of campers new and returning. Many in our community come to camp never having been in a sailboat before, and discover a hobby that builds confidence and resourcefulness while also tapping into skill building and problem solving. Campers can choose to participate in weekly clinics and regattas, or simply ride the waves and winds with friends when the mood strikes them. Newcomers, crew members, and advanced skippers are all welcome at the affectionately named "Aloha Yacht Club." All waterfront counselors at Aloha are certified lifeguards.
Long known at Aloha as The Woodchuck Hole, our Campcraft Department is where campers learn to be self-sufficient outdoors. From map and compass skills and tying knots, to plant and tree identification, all the way up to cooking over an open fire and splitting kindling with an axe, activities in The Woodchuck Hole prepare campers to feel at home on our campus and on the trail. Campcraft offerings are ripe with opportunity for challenge, skill development, and silly, simple fun.
No matter what you're doing, it's harder than most people think to get — and stay — on target. In Archery and Air Riflery, campers learn concentration and stillness, range-finding and aim-taking – safely, with experts. Whether a camper wants to learn basic skills for fun, or work toward mastery under different conditions and at different distances, we have activities and challenges for all interests.
Camp just wouldn't be camp without the wonderful camaraderie and individual expression the creative arts bring to our community. At meals, on a mountain trail, around a campfire – we're always singing at Aloha! Music brings us together, creating an easy atmosphere of light-hearted fun in which everyone can participate. With a blend of well-known songs from outside of camp and traditional Aloha favorites that are easy to learn, music offers everyone a way to connect and celebrate.
Kayaking is a favorite water-based activity at Aloha. Campers learn and practice strokes on both flat water and white water, enhancing their skills and spending time with friends. There are plenty of paddling opportunities on Lake Morey, as well as trips to nearby lakes and rivers. All waterfront counselors at Aloha are certified lifeguards, and as our kayakers will tell you, there are all sorts of ingenious ways to paddle in, flip, steer, and run across a kayak!
While most campers arrive at Aloha having used various camera apps on cell phones, our photography program asks them to slow down, observe, choose, and invest. Using black and white film, manual cameras, and various lenses, campers explore the world of camp with a new eye for shape, light, composition, and depth. The dark room is an intentional space where it takes time and skill to develop the images you've captured...and of course, goofy pics of friends are always welcome!
Many campers arrive on Lake Morey without any prior tennis experience, and they find a community that emphasizes fun, fair play and friendly competition. From instruction and matches for singles and doubles, to tournaments among Aloha campers as well as inter-camp matches, our courts are vibrant and spirited, and we serve up activities that end in love-love.
Performing Arts offers the opportunity to participate in group or solo projects that can be as serious or as silly as you want. Some people take on a role in one of our two summer musicals, some choose to share a talent with the camp community in one of our serious or silly talent shows, while others learn a new instrument like ukulele or guitar, or sing in a weekly small group chorus. Aloha specializes in home-grown theatrical fun complete with fanciful, camp-made costumes and an extensive costume room with treasures that delight. Dance by the lake just for fun, or create a whole performance – it's up to you.
Many Aloha campers first try rowing at camp, discovering a new passion for the sport that can lead to high school and college competition. After basic dock instruction in safety and technique, we take a four-person shell onto Lake Morey as often as weather permits. While this is not an activity that takes place all day every day, it is offered regularly throughout the summer so that everyone who wants to do so can give it a try, and those who so desire can progress through basic skill levels.
The Art Barn brings creativity to life in the visual arts – in ceramics, drawing, painting, copper enameling, weaving, sewing, metalwork, jewelry-making, woodworking, photography, basketry, papier-mâché, sculpture, stage set design, and more. The barn itself is one of the original buildings of our campus, lovingly refurbished in 2013 to add work space while maintaining the treasured rustic feel of the original posts and beams. The expressive possibilities are endless and the creative enthusiasm high.
Aloha's courts and playing fields see lots of action every day. With instruction, pick-up matches, and both internal and inter-camp tournaments, there's a chance for competition in sports like basketball, volleyball, soccer, lacrosse, field hockey, and street hockey. This department also offers active play in a non-competitive setting with activities like badminton, rugby, spud, four square, hide and seek, and other childhood games, as well as the chance for campers to run and jog regularly as part of pre-season training for sports during the school year.
Whether a camper is new to riding a bike or comes to camp a practiced cyclist, there is fun to be had on bikes at Aloha. Our hillside campus is a natural place to learn mountain biking skills on trails and rough terrain, while local paths and nearby accessways provide a great opportunity for newer cyclers to practice bike basics like turning, braking, and shifting gears. Equipment maintenance is also an important part of our program, so campers know how to care for their bikes at camp and at home.
We love providing opportunities for campers that they may not encounter elsewhere, and the chance to learn the safe handling and use of power tools is one great example. Woodworking is a hub of creativity and exploration...as well as noise and sawdust! Our woodshop is supervised by skilled counselors who instruct campers in the use of hammers, nails, files, and mallets...as well as planes, sanders, drills, and saws. From jewelry boxes and cutting boards to benches, coat racks, and Adirondack chairs, Aloha's woodworking program is always a-bustle.
Aloha's swim docks and sandy beach are a favorite place for anyone who enjoys the water. Offering instructional and free swimming, long-distance challenges, competitive meets, and synchronized swimming and diving programs, campers quickly improve their aquatic skills while learning to be comfortable in open water. All waterfront counselors at Aloha are certified lifeguards who practice their endurance training and safety skills throughout the summer. While instructional swimming is optional, there are few things better on a hot summer day than a splash in Lake Morey's cool water.
Daily Schedule
Days at Aloha are filled with opportunities to have fun, work on projects or skills, and also rest and relax. Our daily schedule is based on choice. Within this choice is a mixture of structure and freedom. Campers have the ability to look at the schedule/activities for the day and make a decision about how they want to spend their day.
Reveille – time to get up! (7:15 am)
Breakfast (8:00 am)
Squad (activities to care for the campus and community)
Assembly (songs, stories, performances, sharing, announcements)
First activity period (campers choose from a wide variety of activities)
Second activity period (campers choose from a wide variety of activities)
Free time
Lunch (1:00 pm)
Rest hour
Third activity period (campers choose from a wide variety of activities)
Fourth activity period (campers choose from a wide variety of activities)
Free time/change for dinner
Dinner (6:00 pm)
Evening program
Evening circle (all-camp gathering and singing)
Tattoo bugle (finish getting ready for bed)
Taps – goodnight everyone! (9:00 pm)
Lazy breakfast or cookout on Winships, a hill near camp (8:00 am)
Sunday surprises and free time for campers
Sunday assembly
Lunch (12:45 pm)
Rest hour
Tent family time
Unit suppers/unit time (5:00-6:30 pm)
Wedding ring (special Sunday all-camp gathering in the woods)
Tattoo bugle (finish getting ready for bed)
Taps (8:30 pm)
Meals
We believe that eating together is essential to creating community and encouraging authentic interactions. Our dining program not only feeds campers but also involves them as table helpers, recyclers, and composters. We take pride in the supplier relationships we have established with local growers and farm stands nearby in Vermont and New Hampshire. Our kitchen is nut-free and we can accommodate many medically-dictated dietary requirements but are not equipped to handle all dietary restrictions. We offer vegetarian options, gluten-free options, and dairy-free options, but are not able to guarantee a vegan option. We cannot guarantee there will be no cross-contamination from food ingredients from facilities that also process nuts, dairy, or gluten products. 
Accommodations
Campers live in spacious tents on wooden platforms or in rustic cabins, with three to five campers and one or two counselors. The Director and senior counselors devote great care to arranging campers in groups that they believe will enjoy great times together. The nine or ten tents and one cabin that make up each "unit" share a washhouse with hot water showers, flush toilets and electricity.
Equity and Inclusion
We strive to ensure that each person who participates in our programs feels valued for who they are and what they bring to the community. We aim to create environments where everyone is included, considered, and celebrated. The diverse identities and perspectives people bring to our programs enrich our learning experiences together, and we strive to create a sense of belonging for everyone during their time at the Alohas. We invite you to learn more on our equity and inclusion page.
Registration opens October 16!
We encourage families to read through the details in the tabs below before applying.
Age Guidelines: Aloha welcomes 7th-10th grade girls and gender nonbinary youth. The Club Program is for 10th grade graduates. (For all of our programs, we go by the grade your child has just completed.)
To access your account, click on Enroll from any camp page to sign in or create an account. New families may have an account from when you inquired – enter your email and click on "Get Started." The system will either prompt you to create a new account or it will ask you to enter your password. If you don't know your password, just click on "Forgot Password and follow the steps from there.
To apply to camp, log into your account to select your camp and your first choice of session. Choose one of the four application types: Returning Camper, New Camper, Hive Graduate, or Campership Aid Applicant. Please submit one application for your first choice of session only (you can indicate a backup session within your camp application).
A $1,000 non-refundable deposit (payable via e-check or credit card) is due with your application. New applicants will not need to pay the deposit until we confirm that a space is available. Campership applicants do not need to pay a deposit at the time of enrollment.
Enrollment confirmations will be emailed as campers are enrolled. New campers and those applying for financial aid will apply to our "waiting list". This does not necessarily mean a session is full! This just allows us to process applications and enroll campers on a rolling basis (as space allows).
2024 Dates & Rates
| Session | Tuition | Dates |
| --- | --- | --- |
| Aloha Club & Lanakila Bridge | $13,000 | Monday, June 24 – Wednesday, August 14 |
| Aloha, Hive, & Lanakila Full Season | $13,000 | Friday, June 28 – Wednesday, August 14 |
| Aloha, Hive, & Lanakila 1st Session | $8,630 | Friday, June 28 – Sunday, July 21 |
| Aloha, Hive, & Lanakila 2nd Session | $8,630 | Tuesday, July 23 – Wednesday, August 14 |
Applying for financial aid is very simple! 
Click on Enroll from any camp page to enter our registration site. Sign in or create an account and choose your camp and session.
Be sure to select the Campership Aid application. In addition to the standard camp application questions, you'll be asked a few questions about your household's income and extenuating circumstances. You can upload your taxes or email them to kdanforth@alohafoundation.org.Check your email within a few days and reply to any questions from the Campership Committee.
In about three weeks, you can expect an email with an update on your camper's status.
Email our Associate Director of Enrollment at karen_danforth@alohafoundation.org with any questions.
2024 Terms & Conditions: All families should read and understand the following Terms & Conditions before applying. This applies to returning camper families as well.
Camp Readiness and Enrollment Paperwork
Camp Readiness: Participants must be prepared physically, mentally, and emotionally to participate fully in camp. Families should read these terms & conditions thoroughly and review the information on our website, in our FAQ, and on our blog regarding camp readiness prior to enrolling their child. You may also want to talk with your child's doctor, teacher, or therapist to help you assess their readiness for overnight camp. 
Enrollment Paperwork: You agree to complete all camp paperwork accurately, thoroughly, and on time. You agree to inform us if your child is enrolled in an Individualized Education Program or 504 Plan, receives other special social-emotional or behavioral support, or has any physical, mental, or behavioral condition that may impact their camp experience and/or the camp community. You consent to The Foundation contacting you and your child's service provider(s) and/or medical professional(s) to develop a plan to help your child succeed at camp. You understand that clear and timely communication is essential to setting your child up for success.
Tuition and Refund Policies
Deposits: A $1,000 deposit is required to confirm your camper's enrollment. Your camper's spot will be released if the deposit is not paid within 30 days of receiving your camper's enrollment confirmation email.
Tuition: Tuition is due on February 1. Statements will be available in your online account as soon as your camper's enrollment is confirmed. Families may make monthly payments or pay all at once prior to the due date. Payment not received by the due date may jeopardize your child's place at camp. Tuition for campers accepted after January 1 is due within 30 calendar days of enrollment or prior to the start of camp, whichever is earlier.
Tuition is due February 1. If your tuition is not received by the deadline, your child's spot and deposit will be forfeited. (Exceptions are made for campership recipients on a pre-approved payment plan.)
Payment Methods: Payments may be made via check, e-check, or credit card. Checks may be mailed to the Aloha Foundation at 2968 Lake Morey Rd, Fairlee, VT 05045. The Aloha Foundation charges a surcharge on credit card payments that is not more than our cost of acceptance.  
Late Payments: A finance charge of 1% per month, and any collection fees incurred, may be added to all payments. Delinquent accounts may result in forfeiture of your child's spot at camp and any payments made to date.  
Withdrawal Policy: Deposits and tuition are non-refundable after the deadlines. No reduction or refund of tuition is made for late arrival, early departure, missed days, withdrawal for emotional or medical reasons, or any other cause.   
Tuition Protection Plans: The Aloha Foundation does not offer a tuition protection plan. We strongly encourage families to purchase a tuition protection plan but do not make recommendations on specific policies. Please be sure you understand the limits, coverage, and benefits offered prior to purchasing coverage. Plan options vary and exclusions may apply. Tuition protection may be limited to certain emergency situations or expenses and may not cover cancellations for any reason or in a non-emergency.
Assumption of Financial Responsibility: The individual submitting the camp application agrees to assume responsibility for the full tuition and fees. Assumption of financial responsibility extends to third-party (ex-spouse, grandparent, etc.) payment arrangements.  
Camp Dismissal: There are occasions when a child must be dismissed from camp due to ill health, disciplinary issues, or because they are not adjusting physically, psychologically, or emotionally. We will notify the parents/guardians to evaluate the situation and plan the best course of action. We reserve the right to dismiss any participant if, in our opinion, it is in the best interest of the camp.
Medical Expenses and Treatment: You understand that you are responsible for your child's medical expenses, including deductibles, and co-pays. You consent to emergency medical treatment for the camper if the Foundation, in its sole discretion determines it to be necessary. In the event of a medical emergency, you consent to The Foundation contacting you and other emergency contacts whom you have provided. 
Immunizations: You understand that your child is required to be vaccinated according to the US Centers for Disease Control and Prevention (CDC) immunization guidelines AND the Vermont Department of Health immunization schedules. Religious or philosophical exemptions are not accepted. Medical exemptions are only granted for conditions established by the CDC or the Advisory Committee on Immunization Practices (ACIP) and only when a Medical Exemption Form has been submitted and approved by our medical team. 
Insurance: All participants are required to be covered by a comprehensive health insurance plan.
Dietary Restrictions: You understand that while we provide guidance to children when it comes to allergies, preferences, and food restrictions, they must be able to manage their snacks and meals independently. Our camp kitchens are nut-free and we can accommodate many medically-dictated dietary requirements but are not equipped to handle all dietary restrictions. We offer vegetarian options, dairy-free options, and gluten-free options at every meal, but are not able to guarantee a vegan option. We cannot guarantee there will be no cross-contamination from food ingredients from facilities that process nuts, dairy, or gluten products. Should your child have dietary restrictions, we request that you reach out as early as possible to discuss their needs with our medical team.
Health Forms: You agree to complete the Health History Form accurately, thoroughly, and on time. You understand that the Aloha Foundation may request additional information regarding your child's physical and mental health. 
You consent to your child participating in all regular Camp activities, both on and off camp grounds, and accept the fact that some of these involve inherent risks. By permitting your child to attend and participate in Camp activities, The Aloha Foundation and its agents, employees, and volunteers are released from any and all claims for damage arising out of injury to your child while participating in any and all activities including, but not limited to: gymnastics, biking, hiking, rock climbing, all waterfront activities, all land-sports activities – including archery, riflery, climb tower, ropes course, team and individual sports, crafts activities and fine arts programs. Such activities may occur on-site or off-site in Vermont or other states.  
You consent to the use of photographs or videos of your child to be used in publications, news releases, online, and in other communications related to the mission of The Aloha Foundation.
Health & Safety
The safety of our campers, counselors, participants, and staff is our top priority. Our practices have been developed to meet or exceed guidelines put forth by the American Camp Association (ACA), the Center for Disease Control (CDC), and Vermont's Department of Health.
Our camps host an 8-day pre-camp training covering a wide range of topics, including safety measures for preventing the spread of COVID-19. Counselors who are receiving advanced trainings (first aid, lifeguarding, trip leading) also attend Certification Week. We follow and train our staff in the American Camp Association's (ACA) guidelines for cleaning and sanitizing, including logging how frequently spaces like bathrooms, toilets, communal spaces, and frequently touched surfaces are cleaned. New handwashing stations were installed on all of our campuses in 2021.
The camp Health House has five staff, including one RN. Our residential camp health staff is supported by a Nursing Supervisor, Wellness Coordinator, and a Health House driver.  Upper Valley Pediatrics (UVP) serves as our camp doctors. Our arrangement includes a daily visit by a UVP doctor to each campus and assistance on Opening Day. Since 2021, we have contracted with Little Rivers to provide on call and in person therapy support to our campers and counselors.
The Aloha Foundation requires all participants at Aloha, Hive, and Lanakila to adhere to our
vaccination policies
and upload proof of vaccination to their records. This includes COVID-19 vaccination (as
recommended by the CDC
).
All participants and staff must complete a Health History Form on an annual basis. Learn more on our
Current Families
page. If you have questions about health forms or your child's medical needs, please email
Karen Danforth
, Associate Director of Enrollment, or 
Gretchen Cyros
, Nursing Supervisor.
Let's Connect
We offer camps and programs for people of all ages. Let's talk about you, your child, your family – and discover together which experience you would value most. There are many options and possibilities!