Summer Overnight Camp
Hive
girls' program for 3rd-6th graders
Camp Overview
Since 1915, Hive has offered campers a summer experience full of fun and friendship. At camp, we intentionally leave behind some of the distractions of our daily worlds. We talk to each other face to face and make our own music. We explore the creek and woods. We laugh together, choose our own adventures, and have fun in a simple setting, tucked between the lake and the hills.
Hivers learn the true value each and every camper brings to the community. With the help of outstanding mentors, Hivers have joyful, activity-filled days while gaining independence, strengthening their problem-solving skills, and living harmoniously with others.
Hive welcomes 3rd-6th grade girls and gender nonbinary youth. We invite families to learn more about us and discover if our camps are a good fit for you and your child.
The Aloha Foundation offers financial support to more than 100 children at our overnight camps each year. Interested families can apply for campership aid within their camp application. Please contact us with any questions.
2022 Dates & Rates
Friday, June 24 - Wednesday, August 10
Friday, June 24 - Sunday, July 17
Tuesday, July 19 - Wednesday, August 10
2022 Dates & Rates
Friday, June 24 - Wednesday, August 10
Friday, June 24 - Sunday, July 17
Tuesday, July 19 - Wednesday, August 10
Welcome to Hive!
Sailing, swimming, archery, tennis, hiking, and more against the backdrop of Vermont's green mountains set the scene for a playful and fun summer adventure. What sets Hive apart is its dynamic community where there's a deep sense of belonging and lifelong friendships are made. Around the campfire, under the stars, in the lake, atop the hills, and through the tunnel (it's a Hive thing), children can be their truest selves while becoming their best selves. Contact me to learn more about what a summer at Hive has to offer; I'm looking forward to talking with you.
– Ellie Thompson Pennell, Hive Director
"Hive provides a fun, safe and healthy environment where our daughter has made new friends, grown socially and emotionally, and had just a fantastic experience."
"Hive has to be one of the most supportive, happiest places on earth where children are guided to learn about themselves, be challenged, support one another, make new friends, and be a part of a community and something bigger than themselves while having a unique voice and not being lost in the crowd."
"We appreciate the people who run the camps, the campers themselves, the friendships our girls have made, and the experiences they would never have had if they not attended camp. We are grateful."
Archery is set in a beautiful spot in the woods. Campers learn and practice skills on both beginning targets and regulation distance targets. Experienced counselors provide individual and group instruction, including all safety procedures. Campers quickly progress to enjoy informal tournaments with each other and fun activities. Hivers can choose to shoot for fun or work on ranks.
The Arts and Crafts building provides campers with a wide variety of activities. From sitting on the dock weaving a basket to painting on the back porch, campers develop skills they already know as well as learn new ones. Each summer the talented arts counselors bring enthusiasm and new ideas. With jewelry making, weaving, beading, painting and sketching, pottery and so much more, a camper's imagination is the only limitation in this very creative department!
In Canoeing, beginners learn basic strokes while paddling around Lake Fairlee. Intermediate and advanced canoers learn and practice skills like portaging boats solo, distance paddling, and trip planning with an emphasis on safety and fun. These skills are practiced at Hive and out on trips. There are many different day trips for campers of all skill levels to choose from and two-day canoe trips that go out to local lakes and the Connecticut River. Campers and their counselors also take advantage of cool camp mornings to have breakfast in a canoe out on the lake.
The Camper's Kitchen is a favorite spot for many campers who get great joy out of trying their hand at cooking and baking yummy treats. Talented counselors set up ingredients for a different recipe each day and guide small groups of campers through the cooking process. Whenever possible, ingredients are sourced from our own farm and garden. A sampling of past dishes have included pesto, bread, cookies, salsa, brownies, and animal crackers.
At Exploring, campers learn to stop, look, and listen to the world around them. Learning the names of trees and ferns, birds, and bugs, they begin to see the environment around Hive differently. Whether going on an exploration of the woods, making tea with edible plants, or creating art with natural materials, campers gain knowledge that can foster curiosity for, excitement about, and understanding of the natural world.
Farm and Garden offers Hivers the opportunity to practice caregiving and problem solving in a safe and structured environment. For many campers, visits to the barn or to the garden are their first introductions to being responsible for plants and farm animals, and we work to create a loving environment with guidelines that reinforce thoughtful treatment of all living organisms, including each other. Through handling animals, learning to use a range of hand tools to perform chores, growing vegetables and herbs, campers have the opportunity to practice these skills.
Hive has a beautiful building called the Green House which houses our Gymnastics Department. The variety of equipment (high and low beams, vaults, mini tramps, floor mats and more) meet the needs of campers at many different skill levels. Hivers can work toward individual goals as well as work together to do a performance for the entire camp. The thrill of soaring over a vault for the first time can be just the confidence booster some children need to take other measured risks in and outside the gymnastics realm.
The Kayaking department offers campers the chance to learn beginner to advanced kayaking skills. There are lake kayaks that provide the stability needed for beginner kayakers to learn paddle strokes and other skills needed to have fun around the Lake Fairlee. After mastering skills such as how to roll an overturned kayak, campers may venture out on flat and white water trips throughout New England.
Our large playfield and basketball courts offer the perfect spot for campers to get involved in many different Landsports. From Ultimate Frisbee to Yoga to Dodgeball, campers head to the activity of their choice for maximum fun! Soccer, Softball, Lacrosse, Basketball and Rugby are just a few of the sports talented counselors come to camp ready to teach Hivers. Landsports strikes the perfect balance for campers with goofy group games and spirited athletic competition with each other and other camps.
Music and singing are at the heart of the Hive experience for every camper and counselor. We sing in the dining room, during morning assembly and you never know when you might be serenaded by a group of canoers. From loud, big times to quiet reflective times, music and song find their way into all our hearts at Hive. 
The Comb is home to Performing Arts. Each summer during the first half of camp, all campers have the opportunity to try out for and be a part of a full scale musical performance. From being on stage to helping with sets and stage management, there is something for everyone if they want to be a part of the show. During both sessions, Performing Arts offers music and acting activities as well as opportunities to learn new dance moves and American Sign Language.
Set deep in the woods at the top of camp property, Hive has a low ropes course that emphasizes physical and emotional safety, positive support, and decision-making. Our trained staff helps campers learn all the skills necessary to take on the individual and group challenges a ropes course can provide. Older campers can journey to our high ropes course at Lanakila or the climb tower at Aloha for even more adventure and challenge!
In Sailing, Hivers enjoy navigating Lake Fairlee's waters in Hive's fleet of sailboats including sunfish, JYs, and a Hobie. These boats are used by novice sailors under the supervision of counselors and soloed by experienced camper skippers. Campers acquire basic to advanced skills and confidence with each new voyage from the Hive boathouse. Whether out for an afternoon free-sail or competing in a regatta, sailing is a great way to spend time on our beautiful lakes.
From the beginner to the advanced swimmer, counselors are trained to help campers develop and advance their swimming skills during regular swim lessons. Campers have many opportunities to put their skills to work by training for long distance swims, like the "Rainbow Trout", and to participate in swim meets with other local camps.  On the weekends, Swimming offers fun water games, free swim, and water polo!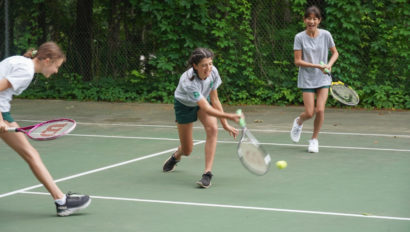 Tennis is played on two beautiful hard surfaced tennis courts. Through fun games and 1:1 to small group instruction, campers have the chance to learn beginning to advanced skills in Tennis. Each summer campers participate in a fun Camper / Counselor tennis tournament! There are also opportunities for campers to compete in a tennis tournament with one of our other camps.
Hive is tucked in the middle of New Hampshire and Vermont and our Tripping department takes campers out of camp to explore the beautiful mountains of our region. On camping, hiking, and backpacking trips, campers learn to cook over a fire, set up tents, read maps, and enjoy the natural world around us. In camp, Tripping offers activities to practice fire building, knot tying, and first aid so that campers have all the skills they need to feel confident and comfortable when they go out on trips.
Daily Schedule
Days at Hive are packed with fun activities – and also time for rest and relaxation. Our daily schedule is based on choice. Within this choice is a mixture of structure and freedom. Campers look at the schedule/activities for the day and decide how they want to spend their day.
Time to get up! (7:15 am – Hivers are ready for the day!)
"KP" (kitchen patrol – when an assigned group of campers and counselors help set tables for breakfast)
Down the hill (campers and counselors leave their tents and shacks on the hillside to go "down the hill" to breakfast)
Breakfast
Tent clean-up
Assembly (singing, stories, sharing, performances, announcements)
First activity period (campers choose from a wide variety of activities)
Second activity period (campers choose from a wide variety of activities)
Hiver free time on the hillside
Lunch (1:00 pm)
Rest hour (campers read, write letters, rest, nap in their tents or shacks )
Third activity period (campers choose from a wide variety of activities)
Fourth activity period (campers choose from a wide variety of activities)
Hiver free time on the hillside before dinner
Dinner (6:00 pm)
Camp capers (camp clean-up)
Evening program (Monday is always Rainbow's End)
Friendship circle
On the hillside ("flush and brush" time)
Tattoo bugle (time to settle in to tents/shacks)
TAPS – Goodnight all! (8:40 pm)
Meals
At Hive, we understand that eating together is essential to creating community and encouraging authentic interactions. The chef knows what kinds of food keep active campers fueled and happy. Weekly menus include cereals, eggs, breads, pasta, pizza, chicken, turkey, roast beef, burgers, sandwiches, soups, tacos, and plenty of salads, vegetables, and fruits. We provide vegetarian alternatives, and we take pride in the supplier relationships we have established with local growers and farm stands nearby in Vermont and New Hampshire.
Our dining program not only feeds campers but also involves them as table helpers, recyclers, and composters. Our kitchen can accommodate many medically-dictated dietary requirements. We do our best to accommodate dietary needs by not serving nuts, and by making vegetarian, gluten-free, and dairy-free options. However, we cannot guarantee there will be no cross-contamination from food ingredients from facilities that also process nuts, dairy, or gluten products. 
Accommodations
Campers live in spacious tents on wooden platforms or rustic cabins, with three to five campmates and one or two counselors. The Director and senior counselors devote great care to arranging campers in groups that will enjoy great times together. Camp "units" composed of ten tents and cabins, on average, share a washhouse with hot water showers and flush toilets.
Health & Safety
All of our practices have been developed to meet or exceed guidelines put forth by the American Camp Association (ACA), the Center for Disease Control (CDC), and Vermont's Department of Health.
Hive hosts an 8-day pre-camp training covering a wide range of topics. Counselors who are receiving advanced trainings (first aid, lifeguarding, trip leading) also attend Certification Week.
Registration & Getting Ready
Apply here starting October 19.
Returners are enrolled on a rolling basis, as space allows.
New campers are encouraged to apply early and are placed on hold until November 15, then enrolled as space allows.
Requests for campership aid may be made within your camp application.
Hive welcomes 3rd–6th grade girls and gender nonbinary youth.
Our youngest campers are both 3rd grade graduates and 8 years, 10 months by July 1, 2022.
Payments and Cancellation Policy
There is no deposit due with your camp application.
Once a camper is offered a spot, families are asked to pay a $1,000 deposit within 30 days to confirm a child's enrollment.
Tuition statements will be available in your online account once a camper is enrolled.
Payments may be made via e-check or mailed to the Aloha Foundation at 2968 Lake Morey Rd, Fairlee, VT 05045.
The remainder of the tuition is due February 1.
Read our Terms and Conditions.
Hive Address: 3295 VT Route 244, Fairlee, VT 05045
This physical address is also the camp mailing address for camper mail, or for shipping trunks and luggage to camp.
Campers may purchase logo items through our camp vendor (stay tuned for 2022 vendor info!) and non-logo items from anywhere. The 2021 packing list is provided here for your reference. The 2022 list will be posted in January.
To purchase camp trunks (recommended size: 32" x 18" x 13.5"), use this link for a discount at Everything Summer Camp. International campers may sign up to rent a trunk through the parent portal. The trunk rental includes a bedding package with sheets, blankets, a pillow, and towels and costs $40 for the summer. **Campers receiving financial aid may also sign up for a trunk and bedding rental package at no cost.
Families may ship luggage to camp at 3295 VT Route 244, Fairlee, VT 05045. Plan to have it arrive after June 15.
Looking to ship your camper's luggage home after camp? Sign up for our UPS shipping form provided by Hanover True Value Hardware.
Health forms, due May 1, will be available in your account later this winter. If you have questions, please email Karen Danforth, Associate Director of Enrollment, or Gretchen Cyros, Nursing Supervisor.
Campers are required to be covered by a comprehensive health insurance plan.
Vaccination Policy (our policy is based on VT requirements for schools and may change if VT requirements change)
View our Medications at Camp document for more information and a list of our standing orders.
Aloha, Hive, and Lanakila campers will be provided a $50 Camp Store credit to use as needed during the summer. The store is for essentials only (supplies that may run out during camp, like toiletries, stamps, paper/envelopes, etc.), and we have limited choices available of each item (e.g. two kinds of shampoo, one kind of toothbrush in several colors, etc.). Each store also sells a few camp items like camp hats, water bottles, and stickers. On those rare occasions when campers exceed the $50 store credit, the balance due will be reflected in your online account. Campers will not require cash at any time.
Let's Connect
We offer camps and programs for people of all ages. Let's talk about you, your child, your family – and discover together which experience you would value most. There are many options and possibilities!