Summer Overnight Camp
Lanakila
boys' program for 3rd-8th grade graduates
Camp Overview
Since 1922, campers have enjoyed the magic and adventure of Lanakila. Lanakila days are full of activities and events experienced by generations of Lanakilans, and at the same time, a change in personality from summer to summer is welcomed and celebrated as new staff and campers join the ranks of long-time Lanakilans.
We are a close-knit, rustically-minded community specializing in creating lifelong skills, relationships, and memories. We believe strongly in a minimalist philosophy that detaches us from our material possessions and asks us to both engage in the natural world as participants and appreciate the diverse range of friends and mentors around us.
Lanakila welcomes 3rd-8th grade boys and gender nonbinary youth (10th grade graduates are invited to apply to the Bridge Program). We invite families to learn more about us and discover if our camps are a good fit for you and your child.
*Summer 2024 registration is now open!
2024 Dates
Monday, June 24 - Wednesday, August 14
Friday, June 28 - Wednesday, August 14
Friday, June 28 - Sunday, July 21
Tuesday, July 23 - Wednesday, August 14
Saturday, July 20 - Sunday, July 21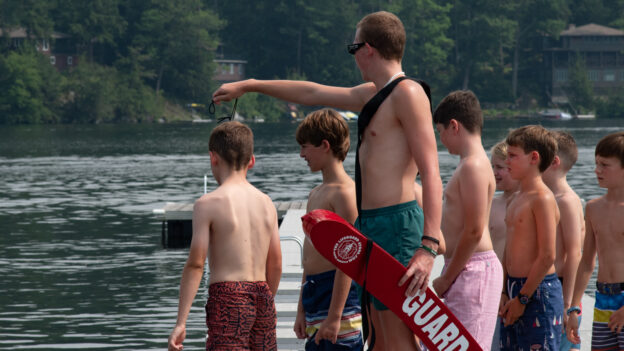 2024 Dates
Monday, June 24 - Wednesday, August 14
Friday, June 28 - Wednesday, August 14
Friday, June 28 - Sunday, July 21
Tuesday, July 23 - Wednesday, August 14
Saturday, July 20 - Sunday, July 21
Welcome to Lanakila!
Infectious laughter, conversations around the dinner table, the glow of a campfire, the deepening of lifelong friendships. These images are emblematic of what I love about camp, and the reason I have been spending my summers here since I was a nervous 10-year-old. From athletics, arts, woodshop, and swimming to archery, sailing, and the ropes course, there are lots of ways to be successful here. Let's talk soon – I look forward to sharing the magic of Lanakila with you!
– Bryan Partridge, Lanakila Director
"Lanakila is such a playful and fun place, where there is competition without pressure. I love that it fosters community and support and does not emphasize being better than everybody else. It's about being a better person and challenging yourself."
"I really value the caring, intentional way people interact with our son at camp, the appreciation for male energy and joy, and the element of choice. I also like that Lanakila has older boys buddy up with some of the younger ones, which provides opportunities for teaching and mentorship."
"I cannot say enough about the counselors. Each of them allowed our son and other campers to be wild, carefree, hopeful, tender, and joyful. If our son grows up to be even a fraction of the man that his counselors are, we will consider that our greatest achievement."
A thrilling challenge in a supportive environment, the High Ropes Course is designed for diverse ability levels and has opportunities for many different kinds of success. The Ropes Course emphasizes physical and emotional safety, positive support, and decision-making. In a supportive and safe setting campers set personal goals and are encouraged to stretch their limits as the course proceeds. The High Ropes Course offers the thrill of perceived risk-taking and the pride of personal accomplishment.
Lanakila's spacious Archery range accommodates 10 targets and allows campers to shoot at distances from 20 meters to 40 meters. Quality instruction is combined with fun activities like balloon shoots and archery poker, and safety and proper form are emphasized in every activity. We also have a nine hole archery golf range with an end of summer Masters' Golf Tournament, as well as an archery clout field where we shoot arrows 75 to 100 yards.
Swimming is a mix of learning and refreshing summer fun. Campers see improvements in skill and comfort through one-on-one and small group instruction with our experienced staff, and the fun begins with our fourteen-foot-tall water slide, our spring diving board and the famed high dive tower. An avid swimmer can challenge himself even more by joining our swim team or attempting the "Purple Albatross"; a five-mile swim around the perimeter of Lake Morey.
In Biking, campers can cruise on the road around beautiful Lake Morey, ride nearby single track trails, and test their skills on an obstacle course. They can even learn some tricks! For beginners, we teach mountain biking basics, and for those who want to gain proficiency in bike maintenance, there are opportunities to learn skills like tube repair and brake and gear adjustment. Campers enjoy riding all over campus during Biking!
We have a dedicated building that houses our Arts Department which provides opportunities for campers to express themselves through a variety of mediums including drawing, painting, ceramics, 3D drawing, paper crafts and even our annual puppet design and showcase.
Athletics provides endless opportunities - flag football, basketball, rugby, ultimate frisbee, street hockey, or baseball. As well as individualized and team coaching from experienced counselors, many campers enjoy the "Ameden League," a first-session intramural baseball tournament open to all campers. Eight teams face each other to reach the final championship, an all-camp event where the Athletics department staff pulls out all the stops.
From zipping around Lake Morey in our wooden sail canoe, touring the swamp in a kayak, joining 12 other campers in one of our 30' long boats, or canoeing on the Rangeley Lakes in Maine, campers can spend a lot of time on the water! Viking Honors shape many activities as campers learn proper techniques to land row boats along docks or how to roll a kayak after it's been overturned. After mastering skills, campers may venture out on flat and white water trips throughout New England.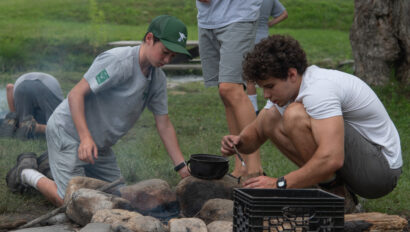 This is the backbone of the outdoor experience at Lanakila. Campcraft teaches fundamental skills of wilderness survival whose mastery allows us to enjoy nature more fully—not just as observers, but as participants. Campers learn to build fires, tie knots, create shelters, cook over a camp stove, put up tents, and through the Viking Honors program, camper learn skills of self-reliance, comfort in the camping environment, and a sense of stewardship for the world around them.
Our rich history of Performing Arts inspires our first session camp musical. Nearly 40 boys participate in putting together a traditional musical for the entire camp community on "Show Weekend." Campers tackle different roles, including acting, singing in the chorus, and helping with back stage and lighting. A few of our favorites have included "Oklahoma," "Oliver," "Li'l Abner" and "Damn Yankees," and the show is always a big part of a Lanakila summer.
A naturalist once said, "You never really know what you're looking at until you know its name." At Exploring, campers learn to stop, look, and listen to the world around them. Learning the names of trees and ferns, birds and bugs, they begin to see the environment around Lanakila differently. Whether going on an exploration of the swamp, the Big Brook, or climbing up the side of a waterfall, campers gain knowledge that can change the way they see the world and the way they see themselves.
Lanakila's Sailing fleet of four J/Y 15's, two Sunfish, a classic day-sailer, and one impressive, handcrafted Viking Ship are used by novice sailors under the supervision of counselors and also soloed by experienced camper skippers. Campers learn skills from basic knots to identifying boat parts, to reefing a sail, and finally to racing strategies. Our weekly regattas with our sister camps provide opportunities to improve racing technique, and a chance to pursue racing ranks of crew or skipper.
Music is everywhere at Lanakila. A bugler's call in the morning; rousing voices mixed with laughter at morning assemblies; campers strumming guitars and picking out melodies on the piano. We learn to value the music we make ourselves; we sing in groups and as a whole camp, we play in the band, and we listen to music of all kinds. Whether budding virtuosos or practically tone deaf, Lanakilans discover music is a central and joyous part of camp life.
Photography at Lanakila is a hands-on approach to learning. Campers are taught the entire process of shooting, developing and printing with the use of the camp's 35mm cameras and darkroom. Activities range from Camera Wars to Photographing Cheese to Open Shoot to Sports in Action, and even making personalized baseball cards. Campers create prints that and they can be proud of and that help them truly understand the process of photography.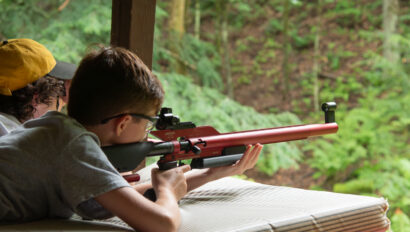 Air Riflery teaches campers not only an appreciation of the safe use of pneumatic rifles but larger lessons about themselves. Trusted with a potentially dangerous and delicate instrument, campers learn a sense of responsibility and operate within a strict system of safety. Campers gain a reverence for the rules of the range and appreciate that their attitude and composure will affect their performance. Air Riflery stresses competence and calmness, rewarding campers who work hard to develop their self-control and concentration.
Vikings play Tennis on two clay courts, two all-weather courts, and the large practice backboards at Lanakila. Players find good competition or just play for fun, and campers of all ages and skills take private lessons, join in singles or doubles matches with Hive and Aloha, and try their hand at the intramural tennis ladder.
The sound of hammers pounding away on a variety of projects in the Woodshop can be heard all across camp. Our experienced staff provides a safe environment and offers the campers the opportunity to develop new skills, from the initial plan, to the design process, and finally, to nailing the final piece of wood into place. Campers work on such projects as miniature sailboats, racecars, wood-turning, furniture design, and more!
Daily Schedule
Our daily schedule is based on choice. Within this choice is a mixture of structure and freedom. Campers have the ability to look at the schedule/activities for the day and make a decision about how they want to spend their day.
Reveille – time to get up! (7:30 am)
Table setting bugle
Breakfast (8:00 am)
CIA (Community Improvement Activities)
Tent/cabin clean-up and unit time
First activity period (campers choose from a wide variety of activities)
Second activity period (campers choose from a wide variety of activities)
Free time
Table setting bugle
Lunch (12:45 pm)
Rest hour (1:30 pm)
Third activity period (campers choose from a wide variety of activities)
Fourth activity period (campers choose from a wide variety of activities)
Free time
Unit time
Table setting bugle
Dinner (6:00 pm)
Evening activity
Unit time
TAPS bugle (8:35-9:00 pm, depending on unit)
Sleepover breakfast (8:00 am)
Tent family time/tent clean-up
Inspection
Unit time
Sunday gathering
Free time
Table setting bugle
Lunch (1:00 pm)
CIA (Community Improvement Activities)
Rest hour
Unit time
Unit suppers/unit time (5:15 pm)
Unit program
TAPS bugle (8:30-9:00 pm, depending on unit)
Meals
We believe that eating together is essential to creating community and encouraging authentic interactions. Our dining program not only feeds campers but also involves them as table helpers, recyclers, and composters. We take pride in the supplier relationships we have established with local growers and farm stands nearby in Vermont and New Hampshire. Our kitchen is nut-free and we can accommodate many medically-dictated dietary requirements but are not equipped to handle all dietary restrictions. We offer vegetarian options, gluten-free options, and dairy-free options, but are not able to guarantee a vegan option. We cannot guarantee there will be no cross-contamination from food ingredients from facilities that also process nuts, dairy, or gluten products. 
Accommodations
Lanakila campers live in spacious tents on wooden platforms or rustic cabins, with three to five camp mates and one or two counselors. Lanakila's Director and senior counselors devote great care to arranging campers in groups that will enjoy great times together. Camp "units" composed of ten tents and cabins, on average, share a washhouse with hot water showers and flush toilets.
Equity and Inclusion
We strive to ensure that each person who participates in our programs feels valued for who they are and what they bring to the community. We aim to create environments where everyone is included, considered, and celebrated. The diverse identities and perspectives people bring to our programs enrich our learning experiences together, and we strive to create a sense of belonging for everyone during their time at the Alohas. We invite you to learn more on our equity and inclusion page.
Summer 2024 registration is open!
We encourage families to read through the details in the tabs below before applying.
Age Guidelines: Lanakila welcomes 3rd-8th grade boys and gender nonbinary youth. Our youngest campers will be 8 years and 10 months old by July 1. The 1st Year Bridge Program is a leadership program for 10th grade graduates who have previously attended Lanakila. (For all of our programs, we go by the grade your child has just completed.)
To access your account, click on Enroll from any camp page to sign in or create an account. New families may have an account from when you inquired – enter your email and click on "Get Started." The system will either prompt you to create a new account or it will ask you to enter your password. If you don't know your password, just click on "Forgot Password" and follow the steps from there.
To apply to camp, log into your account to select your camp and your first choice of session. Choose one of the three application types: Returning Camper, New Camper, or Campership Aid Applicant. Please submit one application for your first choice of session only (you can indicate a backup session within your camp application).
Returning campers are encouraged to apply early, as space in certain age groups and sessions is limited. Applying in the first 10 days will maximize your chance of securing a spot in your preferred session. New campers (including siblings of returning campers) may apply the day registration opens and will be placed on the waiting list until mid-November to give returners a chance to enroll. This does not necessarily mean a session is full! This just allows us to process returner applications first.  
A $1,000 non-refundable deposit (payable via e-check or credit card) is due with your application. New applicants will not need to pay the deposit until we confirm that a space is available. Campership applicants do not need to pay a deposit at the time of enrollment.
Enrollment confirmations will be emailed as campers are enrolled. New campers and those applying for financial aid will apply to our "waiting list". This does not necessarily mean a session is full! This just allows us to process applications and enroll campers on a rolling basis (as space allows).
2024 Dates & Rates
| Session | Tuition | Dates |
| --- | --- | --- |
| Aloha Club & Lanakila Bridge | $13,000 | Monday, June 24 – Wednesday, August 14 |
| Aloha, Hive, & Lanakila Full Season | $13,000 | Friday, June 28 – Wednesday, August 14 |
| Aloha, Hive, & Lanakila 1st Session | $8,630 | Friday, June 28 – Sunday, July 21 |
| Aloha, Hive, & Lanakila 2nd Session | $8,630 | Tuesday, July 23 – Wednesday, August 14 |
Applying for financial aid is very simple! 
Click on Enroll from any camp page to enter our registration site. Sign in or create an account and choose your camp and session.
Be sure to select the Campership Aid application.

You will apply to the waiting

list

 and you will not need to pay a 

depos

it with your application

. 

In addition to the standard camp application questions, you'll be asked a few questions about your household's income and extenuating circumstances. You can upload your taxes or email them to kdanforth@alohafoundation.org. Check your email within a few days and reply to any questions from the Campership Committee.
In about three weeks, you can expect an email with an update on your camper's status.
Email our Associate Director of Enrollment at kdanforth@alohafoundation.org with any questions.
Learn more about financial aid online.
2024 Terms & Conditions: All families should read and understand the following Terms & Conditions before applying.
Camp Readiness and Enrollment Paperwork
Camp Readiness: Participants must be prepared physically, mentally, and emotionally to participate fully in camp. Families should read these terms & conditions thoroughly and review the information on our website, in our FAQ, and on our blog regarding camp readiness prior to enrolling their child. You may also want to talk with your child's doctor, teacher, or therapist to help you assess their readiness for overnight camp.
Enrollment Paperwork: You agree to complete all camp paperwork accurately, thoroughly, and on time. You agree to inform us if your child is enrolled in an Individualized Education Program or 504 Plan, receives other special social-emotional or behavioral support, or has any physical, mental, or behavioral condition that may impact their camp experience and/or the camp community. You consent to The Foundation contacting you and your child's service provider(s) and/or medical professional(s) to develop a plan to help your child succeed at camp. You understand that clear and timely communication is essential to setting your child up for success.
Tuition and Refund Policies
Deposits: A $1,000 deposit is required to confirm your camper's enrollment. Your camper's spot will be released if the deposit is not paid within 30 days of receiving your camper's enrollment confirmation email.
Tuition: Tuition is due on February 1. Statements will be available in your online account as soon as your camper's enrollment is confirmed. Families may make monthly payments or pay all at once prior to the due date. Payment not received by the due date may jeopardize your child's place at camp. Tuition for campers accepted after January 1 is due within 30 calendar days of enrollment or prior to the start of camp, whichever is earlier. (Exceptions are made for campership receiving financial aid and on approved payment plans.)
Payment Methods: Payments may be made via check, e-check, or credit card. Checks may be mailed to the Aloha Foundation at 2968 Lake Morey Rd, Fairlee, VT 05045. The Aloha Foundation charges a surcharge on credit card payments that is not more than our cost of acceptance.
Late Payments: A finance charge of 1% per month, and any collection fees incurred, may be added to all payments. Delinquent accounts may result in the forfeiture of your child's spot at camp and any payments made to date.
Withdrawal Policy: Deposits and tuition are non-refundable after the deadlines. No reduction or refund of tuition is made for late arrival, early departure, missed days, withdrawal for emotional or medical reasons, or any other cause.
Tuition Protection Plans: The Aloha Foundation does not offer a tuition protection plan. We strongly encourage families to purchase a tuition protection plan but do not make recommendations on specific policies. Please be sure you understand the limits, coverage, and benefits offered prior to purchasing coverage. Plan options vary and exclusions may apply. Tuition protection may be limited to certain emergency situations or expenses and may not cover cancellations for any reason or in a non-emergency.
Assumption of Financial Responsibility: The individual submitting the camp application agrees to assume responsibility for the full tuition and fees. Assumption of financial responsibility extends to third-party (ex-spouse, grandparent, etc.) payment arrangements.
Camp Dismissal: There are occasions when a child must be dismissed from camp due to ill health, disciplinary issues, or because they are not adjusting physically, psychologically, or emotionally. We will notify the parents/guardians to evaluate the situation and plan the best course of action. We reserve the right to dismiss any participant if, in our opinion, it is in the best interest of the camp.
Medical Expenses and Treatment: You understand that you are responsible for your child's medical expenses, including deductibles, and co-pays. You consent to emergency medical treatment for the camper if the Foundation, in its sole discretion determines it to be necessary. In the event of a medical emergency, you consent to The Foundation contacting you and other emergency contacts whom you have provided.
Immunizations: You understand that your child is required to be vaccinated according to the US Centers for Disease Control and Prevention (CDC) immunization guidelines AND the Vermont Department of Health immunization schedules. Religious or philosophical exemptions are not accepted. Medical exemptions are only granted for conditions established by the CDC or the Advisory Committee on Immunization Practices (ACIP) and only when a Medical Exemption Form has been submitted and approved by our medical team.
Insurance: All participants are required to be covered by a comprehensive health insurance plan.
Dietary Restrictions: You understand that while we provide guidance to children when it comes to allergies, preferences, and food restrictions, they must be able to manage their snacks and meals independently. Our camp kitchens are nut-free and we can accommodate many medically-dictated dietary requirements but are not equipped to handle all dietary restrictions. We offer vegetarian options, dairy-free options, and gluten-free options at every meal, but are not able to guarantee a vegan option. We cannot guarantee there will be no cross-contamination from food ingredients from facilities that process nuts, dairy, or gluten products. Should your child have dietary restrictions, we request that you reach out as early as possible to discuss their needs with our medical team.
Health Forms: You agree to complete the Health History Form accurately, thoroughly, and on time. You understand that the Aloha Foundation may request additional information regarding your child's physical and mental health.
You consent to your child participating in all regular Camp activities, both on and off camp grounds, and accept the fact that some of these involve inherent risks. By permitting your child to attend and participate in Camp activities, The Aloha Foundation and its agents, employees, and volunteers are released from any and all claims for damage arising out of injury to your child while participating in any and all activities including, but not limited to: gymnastics, biking, hiking, rock climbing, all waterfront activities, all land-sports activities – including archery, riflery, climb tower, ropes course, team and individual sports, crafts activities and fine arts programs. Such activities may occur on-site or off-site in Vermont or other states.
You give permission to the Aloha Foundation to use photographs or videos of this participant in publications, news releases, online, and in other communications related to the mission of The Aloha Foundation.
Health & Safety
The safety of our campers, counselors, participants, and staff is our top priority. Our practices have been developed to meet or exceed guidelines put forth by the American Camp Association (ACA), the Center for Disease Control (CDC), and Vermont's Department of Health.
Our camps host an 8-day pre-camp training covering a wide range of topics, including safety measures for preventing the spread of COVID-19. Counselors who are receiving advanced trainings (first aid, lifeguarding, trip leading) also attend Certification Week. We follow and train our staff in the American Camp Association's (ACA) guidelines for cleaning and sanitizing, including logging how frequently spaces like bathrooms, toilets, communal spaces, and frequently touched surfaces are cleaned. New handwashing stations were installed on all of our campuses in 2021.
The camp Health House has five staff, including one RN. Our residential camp health staff is supported by a Nursing Supervisor, Wellness Coordinator, and a Health House driver. Upper Valley Pediatrics (UVP) serves as our camp doctors. Our arrangement includes a daily visit by a UVP doctor to each campus and assistance on Opening Day. Since 2021, we have contracted with Little Rivers to provide on call and in person therapy support to our campers and counselors.
The Aloha Foundation requires all participants at Aloha, Hive, and Lanakila to adhere to our
vaccination policies
and upload proof of vaccination to their records.
All participants and staff must complete a Health History Form on an annual basis. Learn more on our
Current Families
page. If you have questions about health forms or your child's medical needs, please email
Karen Danforth
, Associate Director of Enrollment, or 
Gretchen Cyros
, Nursing Supervisor.
Let's Connect
We offer camps and programs for people of all ages. Let's talk about you, your child, your family – and discover together which experience you would value most. There are many options and possibilities!